Verizon MAP: Motorola DROID BIONIC cut to $199.99 on contract, Samsung GALAXY Nexus back to $299.99
44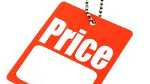 The latest Minimum Advertised Price (MAP) list for Verizon has been leaked and it has some interesting price news as always. According to the list, the
Motorola DROID BIONIC
, once upon a time the flagship Android model for Big Red, is now listed at $199.99 with a signed two year contract from November 24th through March 8th. The phone was originally priced at $299.99 when launched.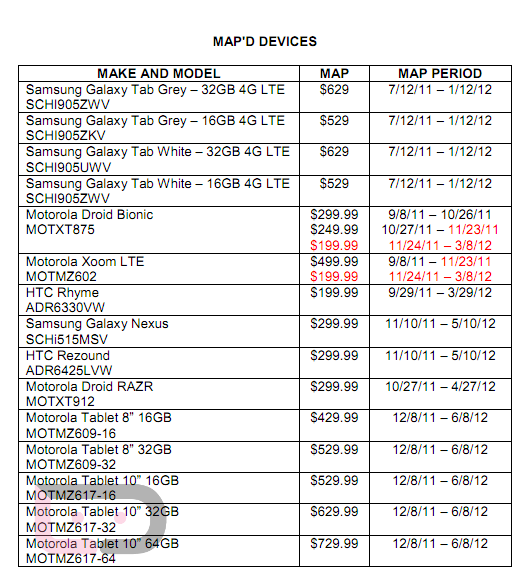 The latest Verizon MAP
Other interesting pricing points from the MAP include the
Samsung GALAXY Nexus
, back to a subsidized price of $299.99 after a leaked ad allegedly from Verizon
revealed a $199.99 price for the first Android 4.0 handset
. And according to the MAP, the
Motorola XOOM 2
will launch December 8th. The prices on the chart show $529.99 for the 16GB tablet, $629.99 for the 32GB version and $729.99 for the 64GB model. Also launching the same day, according to the MAP graph, is the
Motorola XOOM Media Edition
which is priced at $429.99 for the 16GB tablet and $529.99 for the 32GB variant.
The MAP price represents the
minimum advertised price
that Verizon allows third party resellers to advertise certain devices at and is not necessarily an official price guide. For example, while the Motorola DROID BIONIC shows at $199.99 after a 2-year pact on the MAP list, the phone still shows a price of $299.99 on Verizon's web site. Additionally, the Samsung GALAXY Nexus
has shown a $299.99 price and an incorrect November 10th launch date
for the last 3 leaked MAP lists.
source:
DroidLife