Samsung Galaxy Nexus ad promises $199 price, hints at Nov 29th release
21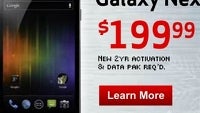 With a couple of high-end Verizon LTE handsets coming out recently, you might have thought that Big Red has settled on $299.99 as the final price. Our wallets weren't very happy with those realities but that was the price to pay, and some expected that the upcoming Samsung Gala Nexus won't stray from that unwritten tradition.
Yet it seems to do - wonderously, the Galaxy Nexus has started appearing in an ad showing up on various Android-centric website and claiming that the price will be set at the
much more affordable $199.99
. The URL of the ad also hints at an early release date on November 29th, which contradicts earlier talk about the Galaxy Nexus hitting shelves only around Decebmer 8th.
Now, we don't know about the release date, but the ads seem legit. Android Police dug up the source - NetShelter, which happens to be an ad network working directly with carriers and phone makers. Serious business, in other words. Now, it might have arrived just a tad bit earlier as clicking the
"Learn more"
button doesn't lead to the Galaxy Nexus but rather to Verizon's Holiday deals page.
For the time being, we have no other details, but we'll update you as soon as we learn more. Hit the source link below to see the ad for yourself and let us know how this somewhat surprising $100 difference in the price is important for you.