Use any icon pack on any Android launcher with Icon Themer (root req'd)
4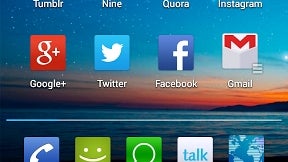 There's no shortage of icon packs for your favorite Android launcher of choice, be it Apex, Nova, Go, Buzz or something more obscure that does the job for you. The trouble is that if you like an Apex icon set, you can't use it with Go, and vice versa.
No sweat, this is Sparta, errr, Android, so Icon Themer comes to the rescue. The app is available in the Play Store, but, naturally, you will need Android 4.0+ and a rooted device to use it, and the Xposed framework, too. Don't worry, as the app will install the framework for you upon launch if you don't rock it.
The themer actually applies the icon packs across your phone, menu included, not only the launcher, so it goes pretty deep, but MIUI ROMs needn't apply for now. Also, HTC devices with their throrough Sense UI integration are troublemakers here, but the developer promises a fix. Users are reporting you sometimes need several reboots to make it stick, too.
Now the only thing left is to pay the $0.99 price, which, we have to admit, is pretty reasonable if you are frustrated you can't use some fancy icon set from a launcher you consider lower in the Android food chain, with your functional launcher of choice you cherish and use on a daily basis.