UK's Advertising Standards Agency rules that the iPhone 4 is thinner than the Samsung Galaxy S II
66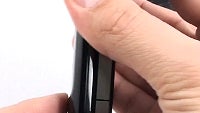 When we got the
Samsung Galaxy S II
prototype back in April, the first thing to do was to size it up with the previous "thinnest smartphone" - Apple iPhone 4, as shown in our video below.
At 0.33" (8.49mm), the slab indeed looks anorexic, even next to the svelte 0.37"
(
9.3mm) of the iPhone 4. UK's Advertising Standards Agency has now ruled, however, that
it would be misleading to advertise the Samsung Galaxy S II as the thinnest smartphone
, since it has this bulging "hump" at the bottom, where it measures 0.39" (9.91mm), and the fattest part is where the measures should be taken at, argues Apple, because it impacts the overall dimensions.
The
Sony Ericsson Xperia arc
, for example, measures 0.34" (8.7mm) in the middle, so the company can also boast a very thin handset, not to mention the
NEC MEDIAS E-04S
, which sports 0.3" (7.7mm) of waistline, but is only available in Japan.
Anyway, this seems like a small victory in the
pissing contest
epic battle between Apple and Samsung lately, which obviously now spans from
courts
to advertising control bodies.