Samsung appeals the Galaxy Tab 10.1 ban in Germany
6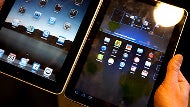 The Regional Court in Duesseldorf has confirmed that
Samsung filed an appeal against the injunction
that prohibits its German branch from marketing and selling the Galaxy Tab 10.1 Android tablet that was enforced last week. The injunction, which puts a pause on sales until a verdict has been reached if
Samsung is infringing on Apple patents with its tablet
, was upheld last Friday, and Samsung's lawyers are obviously not wasting their time.
Samsung has ways to circumvent the ban
, but they might come at a price, and it obviously prefers the legal route, at least until the current stock of tablets flies out of the shelves at major retailers. Henrik Timman, who is part of the Rospatt Osten Pross firm, Samsung's lawyers, had some pretty telling things to say in an interview with Die Zeit German newspaper.
His view is one that defends the current patent system and approves of patent lawsuits, as long as they are not detrimental to innovation and the normal functioning of a company:
"
IPRs are rather rarely used as weapons. Companies don't want to impede competition but ensure a fair compensation for the use of their intellectual property or differentiate their products with particularly brilliant product characteristics from their competitors...
I do have a critical perspective on those patent trolls. With their actions they can block entire companies although they don't act in the market themselves.
"
Well, he is feeding off these patent litigations, so such a position is explicable with pure old love of the buck, instead of making grand conclusions about the inadequacy of his stand, considering his firm is defending Samsung for patent infringement against Apple. Let's not forget also that
Samsung has its own counter-claims filed against Cupertino
for each particular case, so the wheel keeps turning.