Twitter photo sharing integration coming to iOS 5?
3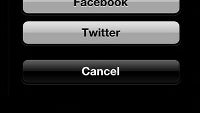 Apple pre-announced iOS 5
yesterday, but except for the name the company has kept tight-lipped about what will the new version of the platform bring. And that's where various sources step up to break a pretty feasible rumor – deeper Twitter integration. TechCrunch has dug up sources linking Twitter's recent announcement of a
photo-sharing service
with a major deal that the microblogging service has inked with Apple.
If true, this will bring fast sharing of images to Twitter, just as iOS now offers to share videos on YouTube. And while deeper integration with Facebook is something, we've expected to see, the inclusion of photo sharing could be a major push for Twitter. To enable the service, users will most probably need to log in and authorize the use of the microblogging service on iOS.
Currently, there are few details about the photo sharing service which could be hosted on
Amazon's S3
thus easing down the expected traffic burden. In addition, some signs of the upcoming service have showed up hinting that Twitter might use the
twimg.com
URL. Do you feel like adding Twitter integration will be major for iOS 5? Don't hesitate to share your opinion in the comments below.
source:
TechCrunch