TweetDeck 2.0 now available on the App Store; iPad version upgrade coming soon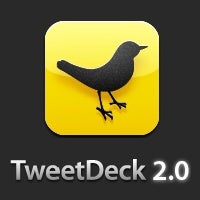 Do you like Twitter? Do you spend hours every day browsing through your favorite social networks? Then chances are you have already heard of
TweetDeck
– the most popular third party Twitter client out there right now. TweetDeck brings the world's most widespread social networks under one roof and gives simultaneous access to tweets from any one of them.
The TweetDeck app for the iPhone has just received its
upgrade to version 2.0
, and according to its developers, it has become even more versatile than it was before. That is probably because the Twitter client has been rebuilt from the ground up, with lots of new features added, while maintaining the same column-based outlook seen in its desktop sibling. For example, posting tweets to multiple accounts is possible with the new version now. Users will also notice how Facebook wall posts, status updates, Twitter timelines, mentions, and you-name-it can now share the same column making it much easier to keep track of them. The message composition screen has also been tweaked, and the built-in Deck.ly support allows longer tweets to be posted with ease.
TweetDeck 2.0 is free of charge, as always, and you can get it from the App Store by clicking on the link below. Fortunately for iPad owners, the upgraded tablet version of the client should not take more than a couple of weeks to launch as well.
Download TweetDeck 2.0 for iPhone from
here
. (iOS 4.0 or above required)
source:
TweetDeck
via
Phone Scoop