The eco-friendly Samsung Blue Earth launches in October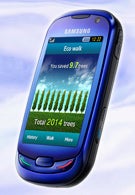 We have already previewed the
Samsung Blue Earth S7550
, along with its very cool environment-centric features, but what we didn't know is exactly when the phone will be released. And finally, Samsung has spoken on the matter, revealing that we will be able to start protecting the Earth and saving trees as soon as
this month
! Well, at least users from Sweden will… However, the Blue Earth will be launched a bit later in France, Germany, Austria, Italy, Portugal, as well as a number of other European and Asian countries. Unfortunately, the manufacturer did not give out details about the pricing.
recycled materials
(the same goes for its packaging), comes with an energy-efficient charger,
solar panels
on the back and has special Eco mode that puts the phone in a low-power consumption state.
Samsung Blue Earth S7550 Specifications
|
Preview
source: Samsung