The Conquest S6 is an everything-resistant, power armor-donning rugged smartphone from China
10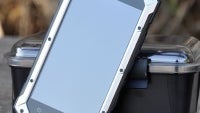 The market for rugged smartphones is not nearly as saturated as the one for feeble, bending, scratching, scuffing, but arguably much prettier handsets. This makes each newcomer in the category an interesting sight, especially since
Caterpillar has the de-facto monopoly
and undisputed authority on the niche - at least in the Western world. On the Eastern side of the globe, we've got products like the Conquest S6. It's got all the workings of a rugged, borderline-indestructible smartphone - just look at this thing. It's wearing a power armor!
The Conquest S6 is water and dust resistant, in addition to withstanding pressure, freezing, scratches, and high temperatures like a champ. Not only does its body absorb impacts, but its display has two metal strips on its side, fastened with titanium screws. Of course, all these layers of protection add up to a smartphone we can affectionally call "thick as a brick". It's 0.62in thick, and weights about 0.63lbs (290g).
This phone could have won World War 2.
Under the Conquest S6's rugged exterior hums a 64-bit MT6732 quad-core processor with 1GB of RAM. There are 8GB of storage, and camera-wise, a 13MP main camera and a 5MP front cam are in place to handle photography. The dual-SIM Conquest S6 is powered by a 4000mAh power central of a battery and runs Android 4.4.4.
As with most Chinese smartphones, this one will be sold domestically, but it should pop up on your favourite re-seller's website sometime soon. Its price should be something to the tune of $325 (1,999 Yuan).
via
GizChina.es