The A8 processor of the iPhone 6 gets benchmarked, shows modest improvement
76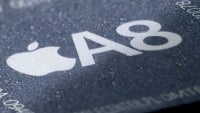 Apple's new
A8
processor is made with the trendy 20nm production method, ensuring faster CPU and GPU performance at a lower power consumption, compared to last year's A7 endeavor, found in the
iPhone 5s
and the
iPad Air
. We
thoroughly reviewed the new dual-core A8 chipset
, but how about its performance in cross-platform benchmarks?
Well, if Rightware's database is any indications, the new iPhone 6 will offer a modest overall improvement in processing power over its predecessor, almost commensurate with the CPU clock increase from 1.3 GHz to 1.4 GHz - the iPhone 5s scores 20 253 points on the test, while the
iPhone 6
and its A8, muster 21 204 points.
For comparison, the quad-core
Galaxy S5
with its 2.5 GHz Snapdragon 801 processor ekes out a 23 501 score, so on a per-clock basis the A8 is probably more akin to the Snapdragon 805 performance one would expect from the
Note 4
. In any case, you are unlikely to feel underpowered with any of these processors, and the lower A8 is one of the likely culprits for
Apple's battery life improvements
promise.

The new A8 processor of the Apple iPhone 6 is made with a 20nm production method