Sprint is also getting in with the BlackBerry 9670 clamshell?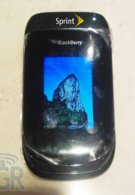 Remember when the BlackBerry 9670 clamshell first started to make its rounds with its almost undeniable close partnership with Verizon Wireless? Specifically, how the carrier was the first to initiate the handset's creation by dictating to RIM what kind of specs, form factor, and features it had to offer. It was almost looking like a sure thing that
Verizon would have an exclusive handling
with this less than wanted form factor, but apparently the case is not so – especially when a recent leaked photo of the handset in question was spotted with Sprint's branding. The two carriers almost feed off one another with their line of BlackBerry smartphones, aside from a couple of devices, they generally offer the same handsets – such as the BlackBerry Curve 8530 and the Bold 9650. There are also reports indicating that this clamshell BlackBerry should start hitting Sprint in the next "couple months." In any event, we'll see if it can muster up some attention for the manufacturer seeing that the recent Torch 9800 didn't quite have that profound impact that RIM was expecting to see.
source:
BGR