Spend some time in Vault 101 this Thanksgiving with Fallout Shelter's latest update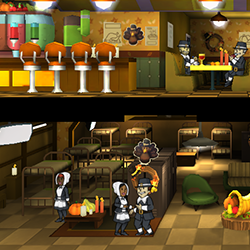 While Pokemon Go continues to steal the limelight when it comes to mobile games, Fallout Shelter is still one of my personal favorites. Although I don't pick up the game as much as I used to when it first came out, there's still plenty of fun to be had down in the Vaults thanks to Bethesda's fairly regular updates to the title.
This latest update lands just in time for Thanksgiving, and it has lots of treats included for those that celebrate the holiday. Players in the US will have access to quests centered around the event, Thanksgiving-themed costumes for your vault-dwellers to wear (such as Pilgrim outfits), and special Thanksgiving decorations for the various rooms in your vault. Don't worry though, US residents aren't the only ones who are getting new toys to play with. In addition to the Thanksgiving-themed content, everyone will gain access to new regular and weekly quests, as well as the ability to have your sims explore the caves of your Vault. This is a particularly big feature-addition, and it should provide for some rather exciting discoveries.
The Thanksgiving-specific additions will remain in Fallout Shelter throughout the rest of November, but that doesn't mean the fun's going to stop. Bethesda has also announced that they'll be offering similar holiday-themed content for the game in December and January for Christmas and New Year's, and although not a lot of detail was gone into these upcoming events, you can be sure we'll cover them when the time comes.
Version 1.9 is the official release for this new update, and it's available to download from the App and Play Store now. And, if you happen to be on iOS 10, the new version 1.9 update also includes new Thanksgiving-themed Fallout stickers to use in iMessage.