Sony SmartEyeglass to go on sale by the end of March, somehow look more ridiculous than Google Glass
15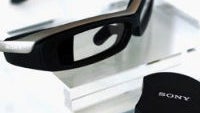 Ever since Google Glass was revealed to the public, there has been no shortage of people saying that the device makes the user look silly. Unfortunately, as more Glass competitors are unveiled, we're starting to realize that Google Glass is possibly one of the best face-worn designs possible. At the very least, Sony SmartEyeglass is proving that the device can look more ridiculous.
Whereas Google Glass has a relatively simple design and is as understated as can be, Sony SmartEyeglass looks like a cross between hipster glasses and the
goggles Horace Grant
used to wear. They are absurdly thick and oddly shaped, which helps to hide quite a lot of sensors. The glasses house an accelerometer, gyroscope, electronic compass, ambient light sensor, and a 3-megapixel camera. And, despite how big the glasses are, Sony somehow still couldn't find a place for the battery pack, and has had to add an external battery pack that would need to be clipped to your shirt. It is quite odd all around.
Sony has released the SDK for its SmartEyeglass today, to get developers on board with augmented reality apps. The device connects to compatible Android devices and runs information from Android apps, but it doesn't seem to run Android itself. The SmartEyeglass is planned to go on sale by the end of March. No word yet on pricing.