Sony Ericsson announces two new radio phones!
1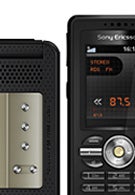 Continuing its line of media oriented phones, Sony Ericsson introduces two new cell phones, accenting on the
radio
option.
The
R306
, Sony Ericsson's first new entry today, is a low-end, 100% radio dedicated phone. Even though it is a clamshell phone, "it looks and it sounds like a radio". On the front panel of the device, when closed, you can see the two stereo speakers, the radio control buttons, and an OLED display. The one thing we are wondering about is, whether a built-in antenna is going to be present. If Sony Ericsson expects us to listen to the radio capable R306i using wired headphones as an antenna, we are gonna be really disappointed. The rest of the features of the device, are typical for the phones of that class.
The second phone Sony Ericsson brings to our attention is the
R300
. Also a radio dedicated phone, but in contrast to the R306 it is a candybar, similar in design to the high-end W880, only half-inch thick. It has the same features as the first phone we introduced today, but it lacks stereo speakers.
Although both phones have versions supporting the North American frequencies, they are not intended for the US market and will not be commercially available.
source: Sony Ericsson