Snapchat's latest update brings Snapcodes for any website
1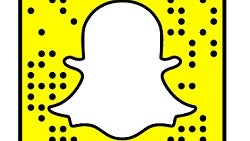 Not too long ago,
Snapchat was updated
with a new look, bringing a search bar to its main screen and some extra color throughout. Today, Snapchat received a small update on iOS that brings a fairly useful feature to millennials' favorite app. Starting with version 10.1.0.0, Snapchat users can create a Snapcode for any website they'd like. Snapcodes are Snapchat's very own QR codes, used solely within the app. Prior to this update, the only Snapcodes users could create were for their own profiles — similar to WeChat's implementation — allowing users to quickly add friends simply by taking a picture of the code.
The process for creating a new Snapcode for the website of your choice is fairly simple. Head to the Settings menu, and you'll find a 'Snapcodes' option tucked between the 'Bitmoji' and 'Password' selections. From there, you'll tap 'Create Snapcode' and enter the URL. Tap 'Create' and you're done! From there, you can add a picture to your "ghost," save the Snapcode to your camera roll, or share it through the various services your phone supports. There is one thing to note, though: it defaults to https. This is a good thing! If the website you want to create a Snapcode for doesn't support https, however, it won't work. To remedy this, simply change it to 'http' and it should work like a charm.
With this new feature, we will most likely see many businesses taking advantage of this feature to connect with their customers. In the past, both businesses and individuals could only have Snapcodes for their Snapchat accounts, limiting the amount of true interaction with those who snapped it. Now, Snapcodes can be used for any URL, be it a website, Youtube video, or pictures — the possibilities are endless.
For now, this update is only available on iOS, but we expect to see it pop up in the Google Play Store very soon.