Simple and Stylish devices from Siemens - CC75 and CF110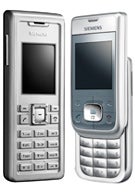 The CC75 features bar form factor and is only 12mm thick, which is even thinner then the well-known Motorola RAZR V3 (which is a clamshell device). Siemens claims that the display of the CC75 is clearly visible from any angle. The body has an aluminum frame, which Siemens claims to be a luxury for the hand. Siemens announced that the CC75 will be in the mid-price range, and will be available in Q4 this year in the color "Aluminium Silver".
CF110 is a classy little slider phone, that is again targeted for people that don't care of the functionality of the device. It does not feature neither Infrared, nor Bluetooth for connectivity, but it has a high-speed
EDGE
connection. The display is 65k color, but there is no built-in camera. It should be available in Q4 in the mid to low price range, in the "Moonlight Silver" and "Midnight Blue" colors.
Source: CC75 Press Release; CF110 Press Release