SanDisk spills the beans on Microsoft's Pink phones - they accept microSD cards
This article contains unofficial information.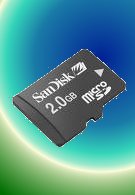 Naturally all of those Windows Mobile users were probably disgusted knowing that Windows Phone 7 devices would not offer expandable storage options like microSD card support. Now it's even stranger that Microsoft's speculated Project Pink phones would be graced with the capability of using microSD cards. Apparently of all the companies that are in the loop of knowing Microsoft's plans, SanDisk pretty much spilled the beans ahead of time and confirmed that the rumored Project Pink handsets that are lined up to be announced on Monday at
Microsoft's special event
will indeed offer microSD card support. Could it be that Microsoft is
once again
looking at the criticisms out there and making adjustments to satisfy the masses? There sure are still plenty of people excited about Windows Phone 7 down the road, but we'd guess they'd be even happier knowing that the Redmond based company could always have a change in heart. In the short term though, we can all place our attention on what to expect with these Project Pink phones.
source:
Phonescoop