Samsung's official Note 9 cases are now priced and in stock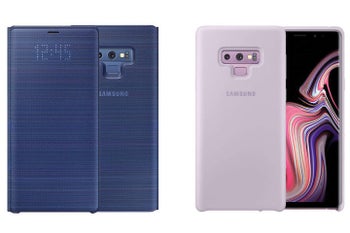 Samsung's own Galaxy
Note 9
cases and various accessories like the new Duo wireless charger are already officially priced and ready to order if you want to slip that $900+ puppy in a case the second that the phone hits your front porch.
The official Clear View Standing Case, Silicone Cover Case, LED View Cover Case and Protective Stand Cover Case are available in colors like blue, white, lavender, brown, black and red, covering all the Note 9 body colors, and then some. The prices are in EUR, but range from about $30 for the Clear Case to $59 for the LED View, in line with the genuine Samsung accessory pricing for the Note 8 or the
Galaxy S9
. There will be a tough stand protective case, as well as a clear silicone one that we found to be one of the best wrappers you can find for your Samsung flagship, fitting perfectly.
Moreover, the official silicone cases are thin and light, mimicking the official color of whatever Note 9 hue you'd pick from the shelf to the letter.