Samsung wins the Brand Keys Customer Loyalty award for 8 years in a row
0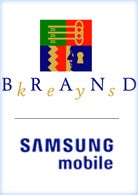 Yesterday,
Samsung Mobile
announced that it has excelled as the leader in customer loyalty among all cell phone manufacturers for 8 years in row. Since 2001, the
Brand Keys Customer Loyalty Engagement Index
has indicated that the South Korean company knows best how to meet and even exceed customers' expectations, thus creating loyal customers. The report actually predicts which products will sell best during the next twelve or eighteen months. In the cell phone category, the survey was based on wireless phone design and performance.
The Brand Keys Customer Loyalty Awards is a high recognition for every company. According to Bill Ogle, Samsung Mobile's Chief Marketing Officer, "Winning this award is very important to Samsung because it means we're creating an emotional tie with the people who buy our phones," and adds "This award is proof that more and more people value and recognize Samsung Mobile as a quality brand each year."
source:
BusinessWire