Samsung Galaxy View stars in promo video: it's "not a TV" and "not a tablet"
23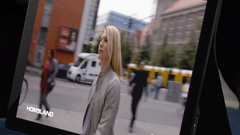 While most of us are calling the Samsung Galaxy View a giant tablet (or something along these lines), Samsung doesn't present the device as a tablet. About a month ago, in the press release
announcing the Galaxy View
, Samsung touted it as "the largest Android mobile device on the market" that represents "an entirely new way of consuming mobile video and entertainment". Now, after the device was launched in the US, Samsung released a Galaxy View promo video to tell us once again what the product is, and what it is not.
As you'll see in the promo video - embedded below - Samsung says the Galaxy View is "not a TV" and "not a tablet." The video shows the device being used and carried around by several people, and concludes that the Galaxy View is "entertainment re-imagined."
Currently
available for as low as $499
(or $599 if you want
an LTE version from AT&T
), the Samsung Galaxy View sports a massive 18.4-inch display with 1080 x 1920 pixels, and is powered by an octa-core Exynos 7580 processor clocked at 1.6 GHz. Other features include a 2.1 MP front-facing camera, 2 GB of RAM, 32 GB of internal memory, a 5700 mAh battery, and Android 5.1 Lollipop.
So, do you think it's worth buying a Samsung Galaxy View?