AT&T will carry the LTE Samsung Galaxy View tablet from Nov. 20th
7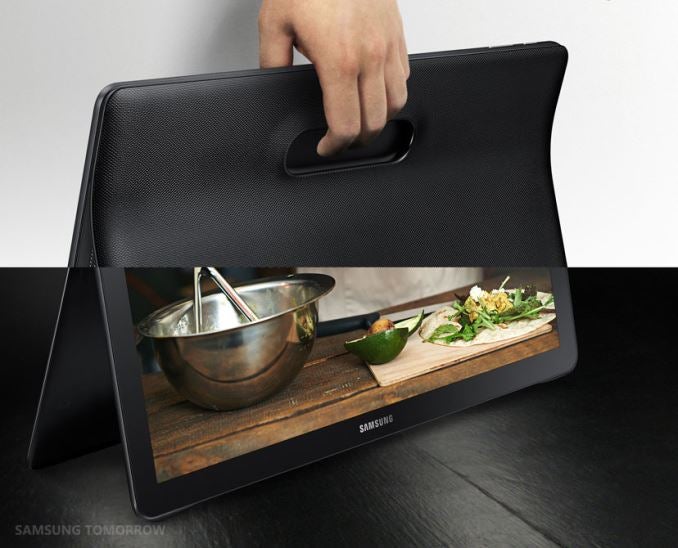 There was plenty of skepticism when Samsung dropped the original
Galaxy Note
-- a smartphone considerably larger than what was deemed to be optimal for use. Since then, almost every major player has jumped on the bandwagon, including fierce rival Apple with last year's introduction of the
iPhone 6 Plus
. Sammy is up to its old tricks again with the
Galaxy View
, a tablet with a gigantic display of over 18 inches in diameter. While it remains to be seen whether the sizable slab will be able to replicate the success of the Note in tablet space, AT&T has taken on its familiar role as being the first U.S. carrier to offer it.
From November 20th, the 18.4-inch Galaxy View will sell through AT&T. DIRECTV customers will be able to avail the slate for $99 upfront, provided they sink into a two-year agreement. AT&T customers can grab the entertainment-focused tablet for free, with a $30 per month spread over 20 months courtesy of the AT&T Tablet Installment Plan. Alternatively, the Galaxy View will be available for $499.99 on a two-year agreement.
Samsung essentially appears to be pushing the View as a portable smart TV, taking advantage of the Netflix Age to deliver big-screen experiences on a portable device. It carries a full-HD 1080 x 1920 resolution, which, while not sounding like much, is sharp for what's basically a condensed TV set. Powered by a 1.6 GHz octa-core Exynos 7580, the AT&T Galaxy View is also treated to 2 GB of RAM, 64 GB of expandable storage and a 5700 mAh battery.
Samsung
has officially launched
the Galaxy View Stateside, but hitherto only the Wi-Fi version. Naturally, AT&T will be offering the cellular edition with 4G LTE built in, although heavy streaming will surely bump up the charges.
With the binge-watching of TV series and movies being in vogue, the Galaxy View could prove a dark horse. Could you see yourself investing in this monstrosity? Let us know in the comments.