Samsung Galaxy S knocks off the iPhone as the best selling phone in Japan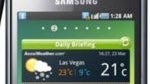 Over in the land of the rising sun, there is a changing of the guard as one smartphone gives way to a new champion. For the better portion of the last 18 weeks since it launched back in June, the iPhone 4 has been Japan's top selling phone with little resistance in giving up its favorable spot.
However, the Samsung Galaxy S has seamlessly taken the prestigious title away from the iPhone most recently. In fact, the Android 2.2 powered device is actually outselling the combined efforts of the 16GB and 32GB models of the iPhone 4 in a period of only a week. Despite being still new to the market over there, it'll be interesting to see how it retains its coveted title in the coming weeks.
Regardless of how that all pans out, it goes to show that the Samsung Galaxy S is a true international hit as the Korean based company expects to sell approximately 10 million handsets worldwide.
source:
Fortune
via
Mobileburn
Recommended Stories