Samsung Galaxy Pocket Neo could be a new low-end Android smartphone
10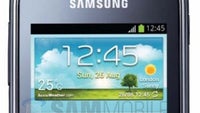 Looks like the
rumored Galaxy Pocket Plus
may not be the only ultra low-end smartphone Samsung has in stock for this year. Word on the street has it that another humble handset is in the works, scheduled to hit the market in May or earlier. The device in question is said to be called the Samsung Galaxy Pocket Neo, and given its entry-level nature, its specs won't make any jaws drop.
It is rumored that the Samsung Galaxy Pocket Neo comes with a 3-inch QVGA screen - that's 240 by 320 pixels. There's also supposed to be a 2-megapixel camera on its back. All standard for a smartphone features like GPS, Bluetooth, Wi-Fi, and 3G connectivity should be on board as well. According to the rumor's source, the handset measures 104.95 by 57.8 by 11.8 millimeters.
The Samsung Galaxy Pocket Neo, allegedly carrying the GT-S5310 model number, will come in silver. There is a dual SIM variant being readied as well, bearing the GT-S5312 model name.
Sadly, there is no solid evidence to back up the tipster's claim, so we can't yet tell whether this Samsung Galaxy Pocket Neo truly exists or not. But even if the device is real, perhaps not many will be excited about its launch.