Samsung Galaxy A7 vs Galaxy S5 vs Apple iPhone 6: specs comparison
12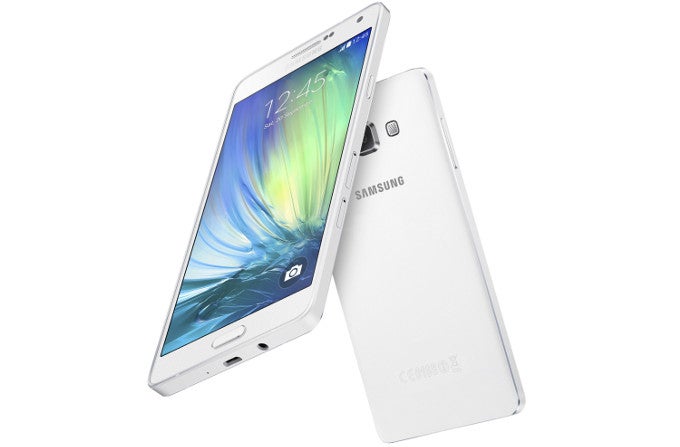 We've had our fair share of news regarding the
Samsung Galaxy A7
over the past months, as many leaks and rumors informed us that Samsung is cooking something interesting.
It turned out that we're dealing a quite thin device with a full-metal body, which is still a new trend for Samsung, which was on of the few major manufacturers that abstained from utilizing metal to the last possible moment.
The device, despite being quite different from the multitude of the existing Galaxy devices out there in terms of build materials and exterior design, is not something to definitely write home about in the hardware department.
We're dealing with a mid-range smartphone at best. Equipped with a 5-inch, 720p Super AMOLED display, a 64-bit quad-core Snapdragon 410 chipset, 2GB of RAM, a 13MP rear camera, and a 2,300mAh battery under the hood. But is it a worth it to get if you're sporting a slightly-dated Samsung Galaxy S5 or an Apple iPhone 6, for example? Let's check out the specs sheets of this trio and see for ourselves!
Super AMOLED
IPS LCD
Super AMOLED
Scratch-resistant glass, Ambient light sensor, Proximity sensor
Oleophobic coating, Scratch-resistant glass, Ambient light sensor, Proximity sensor
Scratch-resistant glass, Ambient light sensor, Proximity sensor
Qualcomm Snapdragon 801 MSM8974-AC (28 nm)
Apple A8
Qualcomm Snapdragon 615 8939
Quad-core, 2500 MHz, Krait 400, 32-bit
Dual-core, 1400 MHz, Cyclone ARMv8-A 2nd gen., 64-bit
Octa-core, 1500 MHz, ARM Cortex-A53, 64-bit
Adreno 330
PowerVR GX6450
Adreno 405
32GB
128GB, not expandable
16GB
Android (6.0 Marshmallow, 5.1 Lollipop, 5.0 Lollipop, 4.4.4, 4.4.2), Samsung TouchWiz UI
iOS (12.x, 11.x, 10.x, 9.x, 8.x)
Android (5.0 Lollipop, 4.4.4), Samsung TouchWiz UI
21.00 hours
the

average

is 17 h (996 min)
16.2 days (390 hours)
the

average

is 20 days (472 h)
10.4 days (250 hours)
the

average

is 20 days (472 h)
21.00 hours
the

average

is 19 h (1110 min)
14.00 hours
the

average

is 19 h (1110 min)
17.00 hours
the

average

is 19 h (1110 min)
3G: 10 hours; LTE: 10 hours; Wi-Fi: 11 hours
67.00 hours
50.00 hours
54.00 hours
13.00 hours
11.00 hours
11.00 hours
Single camera
Single camera
Single camera
8 MP (Sapphire crystal lens cover, PDAF, BSI sensor)
13 MP (Autofocus, CMOS image sensor)
Aperture size: F2.2; Focal length: 31 mm; Sensor size: 1/2.6"; Pixel size: 1.12 μm
Aperture size: F2.2; Focal length: 29 mm; Sensor size: 1/3"; Pixel size: 1.5 μm
3840x2160 (4K UHD) (30 fps), 1920x1080 (Full HD) (60 fps)
1920x1080 (Full HD) (60 fps), 1280x720 (HD) (240 fps)
1920x1080 (Full HD) (30 fps), 1280x720 (HD), 640x480 (VGA)
HDR, Continuous autofocus, EIS, Video calling, Video sharing
Time-lapse video, Continuous autofocus, Picture-taking during video recording, EIS, Video calling, Video sharing
Video calling, Video sharing
2.1 MP
1.2 MP
5 MP
1920x1080 (Full HD)
1280x720 (HD)
1920x1080 (Full HD)
5.59 x 2.85 x 0.32 inches (142 x 72.5 x 8.1 mm)
5.44 x 2.64 x 0.27 inches (138.1 x 67 x 6.9 mm)
5.94 x 3.00 x 0.25 inches (151 x 76.2 x 6.3 mm)
5.11 oz (145.0 g)
the

average

is 6.5 oz (184 g)
4.55 oz (129.0 g)
the

average

is 6.5 oz (184 g)
4.97 oz (141.0 g)
the

average

is 6.5 oz (184 g)
Back: Plastic
Back: Aluminum
Back: Plastic; Frame: Metal
Fingerprint (swipe)
Fingerprint (touch)
Touch sensitive control keys, Interchangeable covers, Notification light
Notification light