Samsung Captivate can be had for one cent on Amazon until August 31st, activation fee waived!
2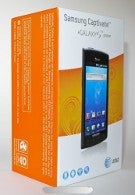 All of you who have been holding off the purchase of the flagship Android handset on AT&T need to wait no more. Amazon is giving the special price treatment again, listing the Samsung Captivate for $0.01 on a two-year contract with AT&T.
It's quite a good deal, considering that the usual $36 activation fee charge will be credited to your next billing cycles. That's a lot of enticements wrapped up in one little offer, and the ETF for the Captivate is $325 minus $10 for each month on the contract.
For a full-on comparison of the two current cream-of-the-crop phones on AT&T, read our
Samsung Captivate vs. Apple iPhone 4
review.
Samsung Captivate Specifications
|
Review
source:
Amazon