Samsung Behold 2 features an AMOLED screen and is powered by Android?
This article contains unofficial information.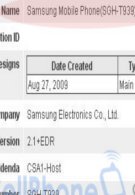 Samsung's AMOLED roll out over here continues with news about the Behold 2 taking up the latest screen technology. AT&T was the first to get an AMOLED Samsung device in the form of the Impression and now Verizon is expected to release the Rogue very soon. The original Behold for T-Mobile was launched last fall and featured a 5-megapixel camera and the carrier's first taste of the TouchWiz interface. Now the successor will sport a 3.2" AMOLED touchscreen, Wi-Fi, and powered by Google's Android platform. No official street date for its release, but we're expecting it to launch very soon and hopefully in time for the busy holiday season.