RIM's BlackBerry Music Gateway is setting its eyes for an arrival in June for $49.99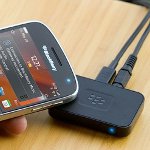 As June quickly approaches,
RIM
is aiming to complement its existing line of BlackBerry devices, like the Bold 9900 and PlayBook, by bringing to market its
BlackBerry Music Gateway
.
No doubt something that'll be particularly interesting to grads and dads that have a soft spot for all things music, the BlackBerry Music Gateway provides the ability to
wirelessly stream songs
from their BlackBerry device, to a home or car stereo system. Not only does it connect with devices via
Bluetooth
connectivity, but the Music Gateway has the advantageous ability to
quickly pair with devices that are NFC enabled
. Essentially, all you'll have to do is tap your NFC enabled BlackBerry, and voila, instant pairing without all of the hassles.
Despite lacking concrete date for its release, the BlackBerry Music Gateway is mentioned to
arrive sometime in June for $49.99
. Therefore if you're looking for a gift for a dad or grad, especially those who happen to have a thing for music, you should keep this one in for consideration.
source: RIM