Poll results: Should Apple bundle wireless earphones in the iPhone 7 box?
21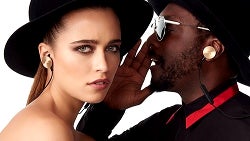 Ever since we first heard that Apple is planning an industry disruption by
omitting the 3.5mm headphone jack
from the
iPhone 7
, we couldn't help but wonder how will music be listened to from now on.
Granted, Apple will most certainly include
new EarPods with a Lightning connector
at the end, instead of the 3.5mm jack, but we don't see how you'd be able to, say, charge your phone with a Lightning cable, and listen to music from it at the same time. That sounds a bit restrictive, and the only reasonable solution we could think of are Bluetooth wireless earphones that have now fallen in price immensely compared to just a year or so ago.
This is why we asked you yesterday if you think that Apple should include wireless earphones of its own making in the iPhone 7 box, thus smoothing the transition to a phone without a 3.5mm audio jack for many. Well, nice stuff for free always wins, and the overwhelming majority of our respondents think that Apple should right the eventual audio jack wrong by including Bluetooth headphones in the iPhone 7 box. We aren't holding our breath for this to happen, yet the future might very well be wireless still.