PetRescuers helps iPhone-carrying pet owners find their four-legged loved ones
0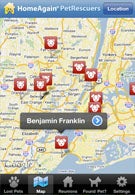 It's a pet owner's worst nightmare: one day, you return home from work to realize that your prized Norwegian Forest Cat, Ambassador Snickelfritz, has gone MIA. We know you'd do anything to get him back, but before you take out that full-page ad in the local paper, you may want to check out PetRescuers for iPhone. The free app, developed by HomeAgain (a leading purveyor of pet microchips), helps connect owners of lost animals with the people who've found them.
Owners can post details about their pets such as age, breed, and last known whereabouts, as well as a short description and photo. On the flip side, anyone who finds an animal can search through local listings and contact the pet's owner. The app also includes heartwarming tales of reunion and an alert feature that notifies users of recently lost pets in their area.
Head on over to the
App Store
to download PetRescuers now. Adorable puppies everywhere will thank you for it.
source:
Gizmodo