Opera acquires Handster app store
2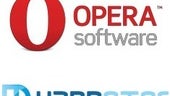 The Opera brand name is usually associated with desktop and mobile web browsers, but it seems like the company is actively working on broadening its field of expertise. Setting foot firmly on app store territory,
Opera Software has acquired Handster
, which is currently the biggest third-party market for Android applications and a popular hub for those looking for iOS, BlackBerry, Symbian, Windows Mobile, and Java software.
However, besides offering tons of app tailored for a variety of operating systems, Handster makes its profit by allowing its store to be used as a platform, upon which other companies can make their own app stores marketed with their respective brands. MTS, Alcatel-Lucent, Ericsson, Huawei and LG are all among Handster's current partners.
Acquiring Handster will lead to the expansion of Opera's very own software marketplace – the Opera Mobile Store, and will most certainly strengthen the company's presence on the mobile front. Here is what Lars Boilesen, CEO of Opera Software stated in regards to the acquisition:
Opera is evolving from being a browser company into a fully integrated mobile services company and this acquisition is an important step in that direction. We are delighted to welcome the Handster team into the Opera family. Handster will enable us to strengthen our mobile store offerings to consumers, mobile operators and handset manufacturers.
Further details about the deal were not disclosed.