Office Depot will start selling the BlackBerry PlayBook on April 19th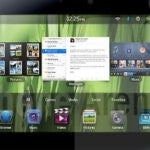 It's already well-established that we're on verge of seeing the launch of the highly anticipated BlackBerry PlayBook, but we're now getting confirmation about Office Depot's plans regarding it.
Previously, we've heard RIM announce its plans about the
launch of the PlayBook
as retailers like Best Buy, Office Max, and Staples have been mentioned as partners, but now we can add
Office Depot
to the mix. Much like the others, RIM's tablet will begin to go on sale at Office Depot locations
starting on April 19th
. And from the looks of it all, it won't be that hard to track down a tablet seeing that there are going to be plenty of venues to snatch one at.
Hopefully you can stroll into a local Office Depot and nab a PlayBook without much wait, but if you really want to guarantee yourself one on launch day, it's probably a good idea to fetch yourself a pre-order with Best Buy.
source:
Barron's
via
Mobileburn