Nuance Dragon Mobile Assistant out for Android ICS, lets you drink from the voice-recognition source
9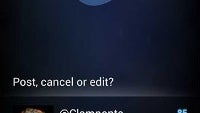 Nuance is the voice-recognition tech provider behind Apple's Siri, and one of the most established names in the field, so the news that it is expanding on its Dragon Go! app for Android is certainly exciting.
The company just introduced the new Dragon Mobile Assistant app for Android, and it bets on a more conversational approach to voice control services, the way Siri and Google Voice in Jelly Bean are acting. An added bonus is that you wake it up with the phrase "Hi, Dragon!", which will certainly spook people on the subway.
You can stay stuff like the examples Nuance is listing below, and the service will respond:
* Make a call - "Call Ashley on her mobile"
* Send a text message - "Tell John I'll be there in five"
* Create a calendar event - "Set up a meeting with Jake Barnes tomorrow at 2pm"
* Update Facebook or Twitter - "Sent out a new Tweet, What a finish to the game!"
* Use maps and find directions - "What's the best way to Portland, Maine?"
* Find restaurants and make reservations - "Find brewpubs in Boston"
* Check the weather - "How's the weather look this week?"
* Look up local businesses and points of interest - "Fenway Park"
* And access content and information from over 200 websites with the Dragon Go! search carousel
The integration with Google Maps is a great feature, as it keeps your hands on the wheel, instead of fiddling with the phone to change or find directions. Check out the promo video below and take it for spin from the source link, but bear in mind that it is only available on ICS handsets for obvious reasons, and in English for now.