Nokia 3D World Gaze puts the World in the palm of your hand
2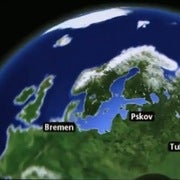 If you happen to have a
Symbian^3 smartphone
like the
Nokia N8
, for example, this neat app will probably keep you occupied for quite a while.
Nokia 3D World Gaze
lets you roam the Earth, albeit only virtually, by giving you a three-dimensional, see-through view of the planet, which you can "travel" back and forth across with a touch of a fingertip.
Now, some of you will probably think that the app is a Google Earth wannabe, but that does not seem to be the case. Nokia 3D World Gaze is a tool that lets you browse
recent geotagged media
from the regions that you are viewing, and according to its developers, its would suit those who are interested in exploring and learning new things about the world that we live in. That being said, see if the video that we have embedded for you below might not wake up the explorer that hides inside of you.
Nokia 3D World Gaze is still in its beta stage so it may not be perfect just yet. However, that does not stop you from giving it a try if you are interested. We have provided a download link for you below so feel free to check it out.
Nokia 3D World Gaze
[download page, registration required]
source:
Nokia