New BlackBerry OS leaks including 5.0.0.154 for the Storm 9530
6

With more leaks seen than at a plumber's convention, unofficial OS upgrades were spotted for the BlackBerry Storm 9530, the Bold 9000, the Curve 8900 and the Tour 9630. The Bold and the Curve 8900 are the recepients of 5.0.0.190 which includes threaded MMS. Unfortunately, tabbed browsing was removed from this build and we're hoping that it is a temporary move. Word of caution: these are unofficially released upgrades. Loading them onto your device can cause numerous things to happen up to and including bricking your phone. Furthermore, your warranty could be forfeited. Having said that, let's continue.
The Storm 9530 was left out of the last leaked firmware upgrade, which went to its foreign cousin, the 9500. But this time, the 5.0.0.154 is for the 9530 which you can get by clicking on this
link
. Initial impressions are that the browser is incredibly quick, YouTube runs faster, the handset as a whole is a bit more responsive, although there are some bugs to be worked out.
The Bold 9000 will be adding threaded MMS with the 5.0.0.190 upgrade that you can get to by clicking
here
. The Curve 8900 owners will also be texting in threaded fashion after this
download
.
And lastly, the relatively new BlackBerry Tour 9630 is the subject of leaked OS 5.0.0.140, which is actually "old and buggy" according to Crackberry. If you're still interested, you can click on the
link
.
If you are brave enough to give any of these a shot on your BlackBerry, let us know what changes you find, either good or bad.
RIM BlackBerry Storm 9530 Specifications
|
Review
RIM BlackBerry Bold 9000 Specifications
|
Review
RIM BlackBerry Curve 8900 Specifications
|
Review
RIM BlackBerry Tour 9630 Specifications
|
Review
(Sprint)
source:
Crackberry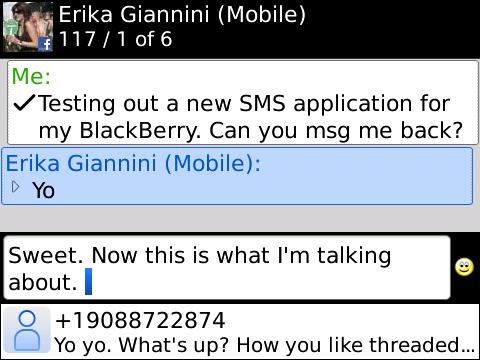 Threaded MMS for the Bold and Curve 8900