NFL Official Fantasy Football app released for Android
2
The NFL lockout is over, the preseason has started, and all is right in the world. Now, it's time to fire up the grill, put some brews on ice, and make sure you have your rosters set for your fantasy football league. Fantasy football is the best way to add artificial excitement to all of those games around the league that you normally wouldn't care about unless you started betting. And, to make it easier to make sure your team is ready to roll come Sunday, the NFL has released the official Fantasy Football app into the Android Market.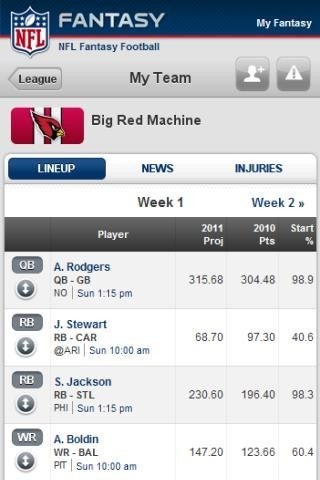 Somehow, ESPN has yet to release a fantasy football app for Android, and only offers fantasy baseball, so the app from NFL.com is the best game available if you're an Android user. The app has the standard options that you'd expect, including:
• Join or create a league
• Check live fantasy scoring
• Sit/Start and Add/Drop players
• Propose and accept trades
• Read up-to-the minute player news
• Manage teams in multiple leagues
The NFL Fantasy Football 2011 app is available for free in the Android Market. Anyone out there think we should start a Phone Arena league?
Install NFL Fantasy Football 2011
(Android Market link)