Motorola customer support confirms Moto X and Moto G are on the line for Android L update
18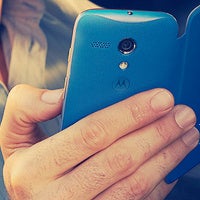 After a bogus message claiming that Motorola's Moto X and Moto G will get the Android L update from what turned out to be a fake Motorola Germany account, now we're hearing the same confirmation, but this time from a seemingly more legitimate source - an official customer representative.
Customer support is not exactly our idea of an official confirmation, though, so we'd still remain cautious about this and treat it as a rumor rather than a fact. With this in mind, you can see right below how 'Kristina', a Motorola custom rep, confirms that two of the company's best sellers, the Moto X and Moto G will be updated to Android L.
When asked about Motorola's affordable phone, the Moto E, though, the rep is not sure whether it'd get the upcoming new version of Google's mobile operating system.
It only sounds logical that Motorola will update its flagship offering, the Moto X, but we're happy to hear that the mid-range Moto G is also allegedly getting the 'L' treatment.
There are no dates mentioned in the conversation, but if we had to bet on something, we'd say that the L update should start hitting flagships like the Moto X around the end of 2014.
source:
Android Origin
via
GSM Arena