Motorola announced three new simple phones
22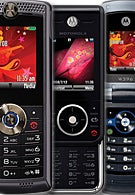 Motorola just announced officially three new models. All they are budget GSM phones and are expected to be available during the third quarter (before the end of September). All three are equipped with a color display, integrated camera, MP3 player, FM radio and microSD slot for memory.
ZN200
is the one with best features. It is quad-band GSM, capable of global roaming with a 1.9" 176x208 pixels TFT display and 2-megapixel fixed focus camera. In shooting mode, it illuminates only the camera shortcuts to make it easier to use. It is the only one of the three to feature Bluetooth, and is capable of distributing stereo audio wirelessly.
Both
W396
and
W388
feature 1.8" 128x160 pixels displays and VGA camera. The former is a clamshell with color indicators on the front when closed, while the W388 is a slimmer candybar. Both offer up to 9 hours of talk time and are dual-band GSM phones, which will be available in two variants, for U.S. and Europe.
source: Motorola