Motorola One and One Power are finally official with svelte specs for the price, stock Android
1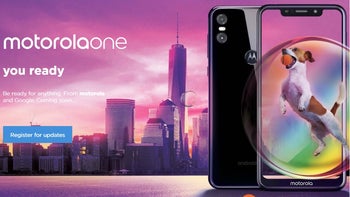 The long-awaited
Motorola One and One Power
are now official, seemingly here to replace the X-family of the Lenovo-owned brand, as there is no X5 to be heard of on the horizon. Why One? Well, as you can easily guess, they are keeping up with Motorola's tradition to offer near-stock interface experiences by joining the ever-growing Android One phones roster. We know you are already salivating about the specs and price of these puppies, so, without further ado, we'll start with the design.
Design and display
The
iPhone X
-esque looking renders of the One and
One Power
that leaked before were not that far off from the real deal, but the finalized bodies are much less X-esque from the rear. To wit, the vertical dual cameras might be situated in the same corner as on the iPhone, but look quite different, unlike some other Android copycats we've seen out of China. The notch at the front presupposes a good screen-to-body ratio of the 5.9" 720p and 6.2" 1080p displays, respectively, which Motorola calls "Max Vision." The One sports a shiny glass body, while the One Power makes do with matte metal body.
Specs
The One Power is more, well, powerful than the One, as it sports a snappier Snapdragon 636 chipset against the aging 625 in the One, a hearty 5000 mAh battery vs the 3000 mAh pack in its smaller sibling, and a 16MP + 5MP camera combo, while the One makes do with а 13MP + 2MP sensors on the back. The front camera is also of higher resolution on the One Power - 12MP against 8MP in the smaller phone. Both, however, come with 4GB RAM, and 64 gigs of storage, not at all bad for the price range.
Price and release date
The
Motorola One
will be released at a later date in Europe, Asia, and Latin America for €299 or equivalent, while the One Power will start from India in October, and probably roll out of there afterward for a price yet to be detailed. All in all, two very intriguing budget handsets from Motorola, as usual, any takers?