Motorola Moto G7 Play is now available for pre-order in the US, offers long battery life at a low price
2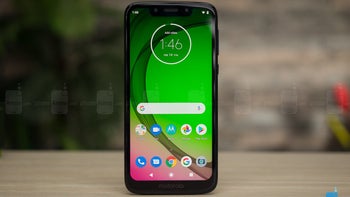 Starting today, March 29, US customers can pre-order Motorola's
Moto G7 Play
, an affordable smartphone that's fully unlocked and compatible with all relevant US mobile carriers.
The Moto G7 Play is the smallest and cheapest phone in Motorola's G7 series, which also includes a Moto G7 Power and a regular Moto G7 (already released stateside for $249 and $299, respectively). The G7 Play is also the least attractive model in the series, both design- and specs-wise, but that's why it's sold for only $199.
Similar to its brothers, the Moto G7 Play runs Android 9 Pie and is powered by a decent Qualcomm Snapdragon 632 processor. However, this phone only has 2 GB of RAM (instead of the 3 GB of the G7 Power and the 4 GB of the Moto G7), which isn't exactly ideal for multi-tasking. On the plus side, the G7 Play packs a 3,000 mAh battery that can last up to 40 hours on a single charge, so you could get 2 days of moderate use out of it. The handset further features a 5.7-inch IPS display with 720 x 1512 pixels, fingerprint scanner, water-repellant coating, a 13 MP rear camera, an 8 MP front-facing camera, and 32 GB of expandable storage space.
You can pre-order the Moto G7 Play from either
Motorola (here)
or
Best Buy (here)
, but they won't ship it before April 5. Interestingly, while Best Buy lets you save up to $100 when you activate a Moto G7 Power or Moto G7 with Sprint, Verizon, or AT&T, this does not happen in the case of the Moto G7 Play. Thus, if you plan to get a phone and activate it on any of the aforementioned carriers, it makes more sense to buy the superior G7 or G7 Power instead of the G7 Play, since they cost about the same in this case. For a proper comparison between these new Motorola handsets, feel free to read our
Moto G7 series review
.