Motorola Droid Bionic pushed back to September in Sam's Club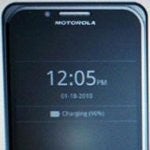 If a leaked screenshot is anything to believe, the upcoming Motorola Droid Bionic for Verizon has been pushed back to a September release at Sam's Club, although other retailers may launch the highly-anticipated device in early August.
Sam's Club is known for having great prices on their phones and there is no reason the Motorola Droid Bionic would be an exception. However, if time is a luxury you don't have, Costco's September release date is not at all indicative that the rumored August 4 release date at other retailers has been delayed.
The original phone that was supposed to be handed the Bionic moniker was the Motorola Etna. The Etna apparently experienced several issues, the
Hopefully there are no more delays in the release of this anticipated smartphone. As previously stated, the Droid Bionic being pushed back to September for its release at Sam's Club is not at all indicative of the release date at other retailers. One way or another, the Motorola Droid Bionic is coming soon. Tell us what you think in the comments below.
source:
Android Central