Moto X now available on U.S. Cellular for $124 (after rebate)
1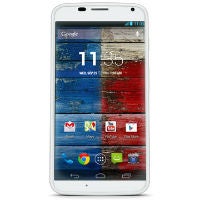 One of the biggest things about the Motorola Moto X was that it was going to be the first Motorola device to come to all major carriers in the U.S. in a long long time. When Motorola first made the announcement, it did say that the launch could extend into early September for some carriers. Well, we're down to one more major carrier because today U.S. Cellular has launched the Moto X.
We've also heard that the Moto X could see a price drop of as much as $100 before the end of the year; and, while U.S. Cellular hasn't dropped the price officially, it is selling the Moto X on a discount. The Moto X on U.S. Cellular is being sold for $199, but it comes with a $75 "switcher bonus", which essentially works as a rebate. But, there is fine print. In order to get the rebate, you have to be enrolled for Device Protection for 60 days, and Device Protection actually just got a price bump a few days ago, so that will cost you $8.99 per month.
The Moto X is available online through U.S. Cellular right now, and will be in stores on Friday. That just leaves the Sprint release, and the T-Mobile release (aka the Google Play release).