More photos of the BlackBerry Monza a.k.a. Monaco surface on the web
3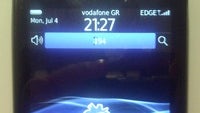 If you have not had enough of them already, even
more photos of the BlackBerry Monza
, or Monaco, or whatever its real name will turn out to be, have made it to the Internet for the world to see. This time it was the guys over at a Greek BlackBerry-dedicated forum that got a hold of what appears to be an early version of the smartphone.
The pictures do not seem to reveal anything beyond what
we have already seen before
, namely that the BlackBerry Monza will most likely run BlackBerry OS 7 and will have a row of physical buttons under its presumably 3.7-inch display. Besides that, it is rumored that the device will be powered by a 1.2GHz Qualcomm chipset, which means that it will have the processing power to compete with most contemporary smartphones.
The guys who managed to take the photos have promised that an in-depth video of the BlackBerry Monza is on the way, so stay tuned for more.