Misfit Vapor hands-on
4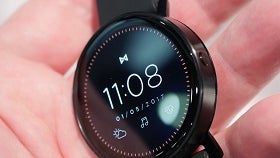 Wearables have quickly become a lot like smartphones when it comes to making a design standout. Smartphone manufacturers have to invent ways to make a candy-bar form factor look fresh. For smartwatches, it seems that style forsakes functionality, or battery life forsakes style, and durability forsakes everything else.
Misfit decided to bring a unique user experience to its new smartwatch, the Vapor. The design is unassuming, stainless steel, available in black or rose gold. Then you look at that pretty face.
The 1.39-inch fully-round AMOLED display does what AMOLED displays to best, offer up the deepest blacks and show off vibrant, saturated colors. For good measure, the display packs in 326 pixels-per-inch.
Misfit is not giving up any details about what operating system lies inside the Vapor, instead focusing on the unique and fluid user interface. Hardware-wise, there is a Qualcomm Snapdragon Wear 2100 processor, which has found a home in other Fossil branded wearables, as well as the
Asus ZenWatch 3
. There is also 4GB of storage on board.
With that storage, you can load up a bunch of music, and pair your favorite Bluetooth headphones directly with the Misfit Vapor, allowing you to listen to music without having to bring your phone along while your workout or go for a run.
The Misfit Vapor should offer up to two days of battery life, and is water resistant to 50 meters, so it will track your swimming data as well.
The Vapor is packed with sensors too. Along with GPS and an optical heart rate sensor, the Vapor uses an accelerometer, altimeter, and gyroscope to track detailed activities which you can access through applications on the smartphone and on the Vapor itself.
The touch screen and round display work with the user interface nicely to make things easy to navigate. There is a single button which either brings you home, or back to the menu out of whatever you were looking at.
The Misfit Vapor goes on sale later this year and will retail for $199 at Misfit.com.