Asus ZenWatch 3 hands-on: a thing of beauty
11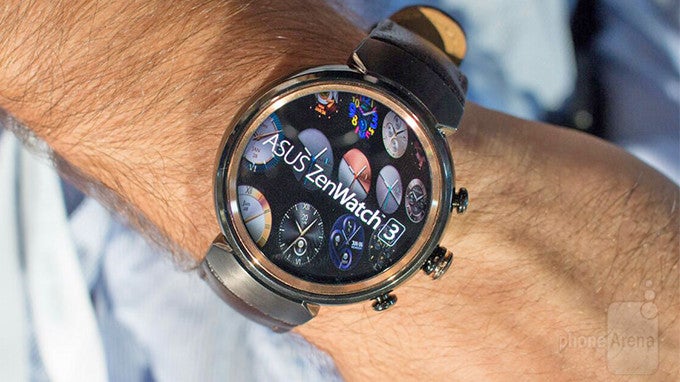 Whether you're a fan of smartwatches or not, chances are you'll agree with us on this – the Asus ZenWatch 3 is a thing of beauty. In case you've missed the news, that is the company's latest smartwatch. It is powered by a Qualcomm processor and it runs on Google's Android Wear platform, just like the previous two ZenWatch timepieces. Unlike them, however, the new model features a gorgeous circular display, and that's far from the only thing that makes it draw one's attention.
So yeah, the new Asus ZenWatch 3 is quite pretty. It isn't feather-light, and we can't call it thin either after having the chance to wear one, but it sure catches the eye with its construction. Housed inside a 316L stainless steel, water-resistant body, the unit has a premium feel and seems well put together. Furthermore, its circular design gives it the resemblance of a classic timepiece, while the "geek" factor has been kept down to a minimum. This is definitely a watch you want to pair with a set of genuine leather straps, such as the ones Asus will be offering, although rubber ones will be available as well at a lower price.
On the front of the Asus ZenWatch 3 is a 1.39-inch 400x400-pixel AMOLED display. From what our eyes could see, the panel is bright, colorful, and rich in detail. The layer of Gorilla Glass 3 protecting the screen has a slight curve to it, although the arch's presence is barely noticeable.
Functionally, the Asus ZenWatch 3 behaves much like any other Android Wear smartwatch – it shows your notifications, it responds to voice commands, it keeps track of your activity, and yes, it does display the time on one of the 50+ exclusive watchfaces provided by Asus. No, there's no heart rate sensor on this model, but the Asus ZenFit app promises 95% accuracy when it comes to fitness tracking. And on the side of the device there's an extra button that you can assign a function to – a first for Android Wear smartwatches.
In case you're wondering what's on the inside, the Asus ZenWatch 3 runs on a Snapdragon Wear 2100 chip, which is an SoC developed especially for use in smartwatches. Thanks to the optimizations that have been implemented, the timepiece will benefit from a 25% improvement in power efficiency, although you'll still be getting around a day or two of usage, as is the case with most other smartwatches of this kind.
All in all, the Asus ZenWatch 3 is a device worthy of attention. While we can't give it a final verdict at this point in time, we'd say that the timepiece looks promising, even though it doesn't seem to bring much in terms of novelties to the Android Wear scene. Those who seek a stylish, premium-grade wearable might find Asus's offering to be ideal for them. Those searching for a sporty, fitness-oriented timepiece, however, might want to look elsewhere.