Mirosoft finally announces Windows Mobile 6 (Crossbow)
4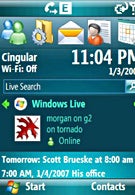 A few days before thebeginning of 3GSM,Microsoft officially announced its new version of the WindowsMobile operating system, with the code name "Crossbow" and the finalmodelnumber "6". There are a few improvement when compared to theWM5 OS,but what is more important is that the new OS should have taken care ofsomeannoying problems the 5.0 version has. The OS willnow come with built-in support for previewing and editing of Word, Exceland PowerPoint documents, as well as full integration for Windows Live.HTML-formatted email and enchanced Calendar featuring "Calendar ribbon" are also some of the improvements.TheWindows Mobile 6 will not only be more powerful, but will also use yourhardware better, making your mobile device faster and more efficient.


A new version scheme is also introduced:
Windows Mobile for

Smartphones

- Windows Mobile

Standard

Windows Mobile for

Pocket PCs

- Windows Mobile

Classic

Windows Mobile for

Pocket PC Phones

- Windows Mobile

Professional
Expect our hands-on report on the final Windows Mobile 6 (Crossbow) when we test it at the 3GSM Show in Barcelona, next week.
Source:
Geek.com