Microsoft launches Photos Companion app for easy phone-to-PC photo transfers
2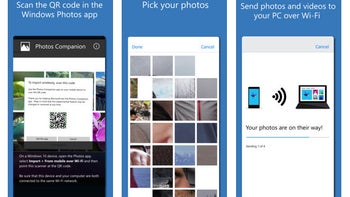 Microsoft has announced the launch of its Photos Companion app on both iOS and Android. The app lets you easily copy pictures from your iOS/Android device to your Windows 10 PC wirelessly and hassle-free.
The Photos Companion app works in combination with the native Photos app in Windows 10, but to use its features, you need to go through quite the routine. Worry not, as it sounds less complicated than it actually is.
First, you need to launch the Photos app on your computer. Be sure that the app is updated to the latest version.
Then you click on the three dots in the upper-right corner and choose "Settings".
Now you need to enable the "Preview" option found near the bottom of the Settings menu. You will only need to do this once.
After closing the Photos app and opening it again, you'll see a new option in the Import drop-down menu, letting you copy photos from your phone to your PC wirelessly. Click on it.
At this point you'll see a QR code on your PC's screen. Launch the Photos Companion app on your phone, choose "Send Photos", and scan the QR code.
Once the QR code is scanned, you can use the Photos Companion app on your phone to highlight the photos that you want transferred.
Hit "Done" and wait for the photos to be copied. Keep in mind that the app won't remove the photos from your phone. It will just make local copies on your PC.
And that's it! Note that both devices need to be on the same Wi-Fi network for the magic to happen. No less importantly, remember that the Photos Companion app is still a bit rough around the edges, and coming across bugs is out of the question. But it does work, so if you want to give it a try, here are links to get it on your iPhone or Android phone.