Marketing win: Interactive Samsung app lets you experience the Galaxy Tab S from any device, and it's awesome
11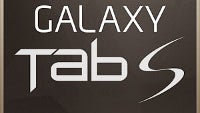 Adding confusion to its already very crowded tablet lineup, Samsung released the
Galaxy Tab S 10.5
and
Tab S 8.4
to spearhead its 2014 push. There's a lot to like about these two slates as you get some truly phenomenal hardware backed by the full might of Samsung's software ecosystem.
But since neither of the two come cheap, the company is obviously relying on its marketing division to drive sales. In result, a brand new Samsung app was made available on the Google Play Store earlier today, dubbed GALAXY Tab S Experience. As the name suggests, the app's sole task is to convince you of the many wondrous features of the two new Samsung tabs, including their design, Super AMOLED displays, software features, and freebies. While experienced users are unlikely to find anything new here, the app is definitely worth a look, if only because it's so well made. Indeed, the app is quite interactive, and we'd be lying if we said that Samsung's marketing dollar was poorly spent on this occasion.
The 48MB-large app is available at the source link below and works with both smartphones and tablets, so long as they're running on Android 2.2 or higher. Make sure you take a look.