Macro lenses for the iPhone 5/5S available from Olloclip
7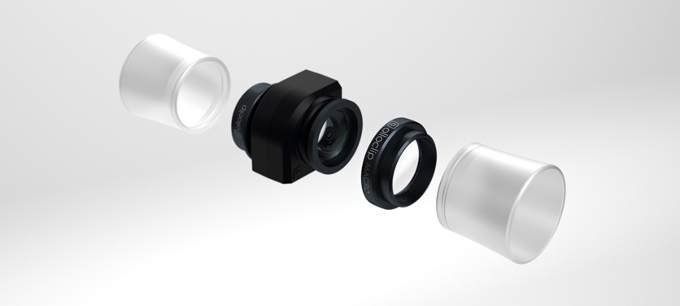 Several days ago we informed you about an ongoing Kickstarter campaign, the aim of which is to fund the production of a lens adapter for the iPhone 5/5s, which will allow the shooting of video clips with an aspect ratio of 2.4:1. Today we have a new piece of information for all the photography enthusiasts out there who either own an iPhone 5 or an iPhone 5s. Olloclip, the company which is famous for its snap-on lenses for Apple's smartphones, has released a brand new lens kit.
The Olloclip Macro 3-IN-1 Photo Lens kit aims to enhance the close-up shooting capabilities of the rear camera of the iPhone 5/5s. The set consist of 3 identical lenses, each of which delivers a 7x magnification. You can either use one of the lenses or easily combine two or three of them and shoot with 7x, 14x or 21x overall magnification. According to Olloclip, the snap-on lenses will improve the sharpness of the photos you take and deliver greater edge-to-edge clarity and depth of field, while reducing the amount of image distortion.
It looks like the lenses suit the looks of the premium exterior of the iPhone 5/5S itself. Although the parts that attach the Olloclip macro lenses to the device are made of soft plastic material, they don't look cheap. According to the manufacturer, they fit securely and don't harm the device. On the other hand, the barrels of the lenses are made of the more premium aircraft aluminum and the optical parts of the kit are precisely ground coated.
The Olloclip macro kit is compatible with the iPhone 5/5s, but works with the 5th generation of the iPod Touch as well. The set, which is available only in black at the moment, can be ordered directly from the manufacturer's site and is priced at $69.95 (a link is provided for you at the source).