Love coffee? Then you'll really want to win this week's T-Mobile Tuesday contest
2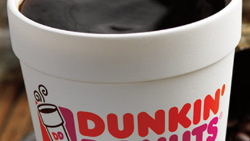 This upcoming week's T-Mobile Tuesday begins with a free T-Mobile Stadium Bag. The clear bag allows you to go through security in a heartbeat. If you're a T-Mobile subscriber, starting next Tuesday head over to a nearby T-Mobile location and pick up your bag. Don't procrastinate or the bags will be gone before you get to take one home. T-Mobile subscribers will also get 25% off the cost of a Ultimate Ears speaker purchased from a T-Mobile store or online.
If you're in school, you will surely need a free month of StudyBlue Pro. This gives you access to crowd-sourced study guides ad-free. And T-Mobile subscribers will also receive a $2 card that can be used at Dunkin Donuts. There, T-Mobile customers can grab a tasty doughnut or a cup of hot coffee.
Speaking of coffee, there will be one Grand Prize winner of the weekly contest. That person will win 52 weeks worth of free coffee from Dunkin Donuts. This prize will consist of 5 large coffees a week for 52 weeks. At $2.15 a cup, that works out to $560 in eGift cards that the Grand Prize winner will receive. Ten First Prize winners receive $280 in Dunkin Donuts eGift cards, good for 26 weeks of free coffee (5 large coffees a week at $2.15 a cup).
One Hundred Second Prize winners will get one free month of Dunkin Donuts coffee. At $2.15 a day for 5 large coffees a week, the winners in this group will receive a $50 eGift Card. Need to feed your caffeine addiction? This is the contest that you want to win.
Overall, there will be 111 coffee related prizes being given away with this coming week's T-Mobile Tuesday. Value of all of the prizes amounts to $8,360. Good Luck!
source: T-Mobile