LifeProof frē iPad mini case hands-on
1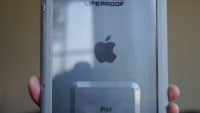 Even though the thought of using an
iPad mini
near the pool wouldn't cross the minds of most people, especially when there's the risk of it being damaged due to splashes of water from people diving into the pool, there's actually a solution that would offer peace of mind. Just like the
recent case we checked out
for the
iPhone 5
, the
LifeProof frē iPad mini case
might be the only case you'll need for the beloved pint sized tablet, seeing that it's
IP68 certified for protection against water, dirt, snow, and shock
.
Right from the onset, we dig how the LifeProof frē iPad mini case doesn't add a whole lot of size and bulk, but rather, it's
form fitting
and retains a mostly streamlined construction. Sporting a see-through design, which is accomplished with the use of tough plastic films over the front and rear of the case, the grey rubbery sides help to give the case it's rugged appearance. In fact, the rubbery trim of the case enables the tablet to merely
absorb shock from a maximum drop height of 4 feet
. Comprised out of two pieces, a front and back casing, everything snaps together around the trim to ensure it's sealed tightly – so it'll be able to
take a dip in water under 6.6 feet
.
There's no arguing about the case's lifeproof nature, as it'll withstand nearly all accidental experiences without damage, but after using the case for some time, we notice that the plastic frame begins to flex over time due to removing/putting on the case constantly. Worse yet, we realized that a crack started to form, which makes us a little skeptical about how it'll hold up in the long run. So yeah, the biggest annoyance we find with the LifeProof frē iPad mini case is the process of putting it together/apart – it's just so darn difficult, to the point that our fingernails feel the pain or trying to pry it apart.
Needless to say, the
$99.99
price point of the LifeProof frē iPad mini case is more than justified, seeing that it goes above and beyond most other cases when it comes to all-around protection. Plus, it's not all the time we find a rugged case of this caliber that manages to minimize any added bulk.
source:
LifeProof